Dell Alienware 34 Curved Monitor - AW3418DW
DELL ALIENWARE 34 CURVED MONITOR : AW3418DW
GAME ABOVE THE CURVE.
34-inch gaming monitor featuring a curved 1900R IPS display with NVIDIA® G-Sync™, wide viewing angles and incredible resolution. Lose yourself in every game.
ALIENWARE-34-MONITOR-AW3418DW-VIDEO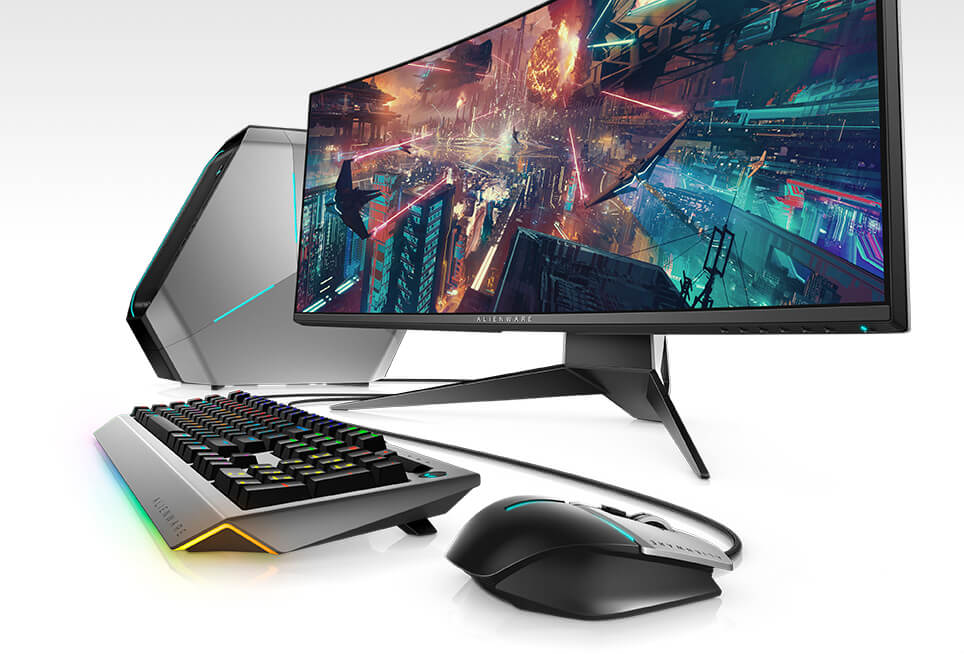 TRICKED OUT AND ALL IN
Introducing all-new Alienware monitors, mice and keyboards featuring the iconic design you trust for exhilarating, immersive gaming. Whether you're just starting your collection, or rounding out your arsenal, Alienware accessories are built to enhance your gaming experience as you journey deeper into the game.
ICONIC DESIGN IS IN OUR BLOOD.
Looks that kill: A premium, polished silver finish and ultramodern design reflect our commitment to sophisticated appearance, unparalleled quality and gargantuan gaming.
We focused on the details so you can focus on the screen: Your monitor features an ultrathin 3-sided bezel for an expansive 34-inch screen space. Our unique step-venting details help dissipate heat and maximize performance. And we added the unearthly glow of Triad lighting to complete the monitor that's better looking than it has to be.
Curve your enthusiasm: Completely immerse yourself with a sweeping, 1900R curved infinity display that takes you deeper into the game and a 21:9 aspect ratio that makes every vantage point epic. The curved screen maximizes your field of vision, reducing eye movement, so you can stay comfortably focused on the game longer.
THE COMPETITION CAN EAT YOUR DUST.
Expand your horizons: In-plane switching panels mean a wide 178°/178° viewing angle from any vantage point and incredibly vivid, detailed sRGB99% colour reproduction from wherever you are in the room.
Get real: A 3440 X 1440 WQHD resolution display delivers sharp, crystal-clear graphics with 4.9 million pixels—1.79 times more detail than a Full HD display. So you'll see every blade of grass, every glint of steel, every drop of sweat more vividly, intensely and richly than ever before.
Synched up and ready to roll: NVIDIA® G-SYNC™ technology displays full frames only when the monitor is ready to display them. This means your screen frames load so fast, you can say goodbye to distortions—like tearing and artifacts—and get used to smooth, vibrant images.
By the time this sentence is over: Refresh rates so fast you won't have time to worry about lag. Bring on even faster responsiveness with 100Hz native [or up to 120Hz overclocked] refresh rates and 4ms response times.
YOUR CENTRAL BATTLE SYSTEM.
DESIGNED TO BEAT THE COMPETITION.
An on-screen display (OSD) gives you a competitive gaming edge. Gain the flexibility to choose from the 6 games modes offered—three factory preset game modes such as FPS, RTS and RPG and three customizable game modes you can personalize to your preferences. The dashboards displays the status of your key functions and pre-set modes so they're easy track or change.
EVERY SEAT IS THE BEST SEAT IN THE HOUSE.
The new swivel-hinge combo design supports tilt, swivel and height-adjustability so wherever you feel most comfortable, you'll still have the best possible vantage point. It's ultimate comfort for endless gameplay.
PLUG AND PLAY.
Multiple quick-access ports mean endless connectivity options and easy set-up, so your setup is just how you want it, wherever you want it.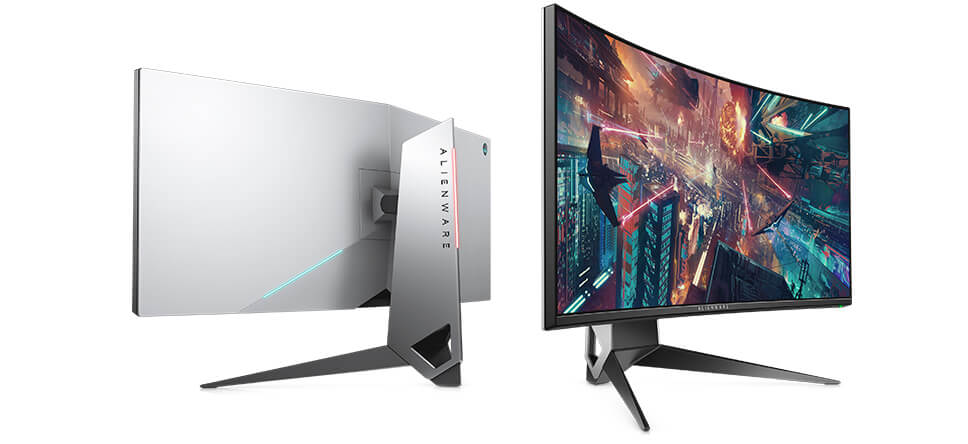 CUSTOM LIGHTING EFFECTS
Enhance your gaming experience with AlienFX – a fully customizable RGB lighting system designed to bring you closer to the worlds you play in with dynamic lighting effects tied directly to the in-game action. Four customized lighting zones let you personalize your keyboard, monitor and mouse with different colours and effects to reflect your style. Create and download unique themes effortlessly for over 145 different games.
CONNECTIVITY OPTIONS
Ports:
1. Power cable connector | 2. Line-out port | 3. USB port with Power Charging | 4. Headphone jack | 5. USB 3.0 port | 6. USB upstream port | 7. (2x) USB 3.0 port | 8. HDMI port | 9. DisplayPort
Cables include:
1. DisplayPort cable | 2. Mini DisplayPort to DisplayPort cable | 3. USB 3.0 upstream cable | 4. Power cable
DIMENSIONS & WEIGHT
Height: 442.44mm ~ 560.89mm (17.42 inches ~ 22.08 inches) | Width: 813.45mm (32.03 inches) | Depth: 319.09mm (12.56 inches) | Weight (without stand - for VESA mount): 7.27kg (16.10 lb)
PEACE OF MIND, GUARANTEED.
Our products are engineered with care and precision, so we guarantee support and peace of mind.
A brand you can rely on
As the #1 monitor brand for 4 consecutive years*, Dell takes pride in our unyielding commitment to quality and the utmost satisfaction of our customers.
Premium Panel Guarantee
The Dell Premium Panel Guarantee allows a free panel replacement during the Limited Hardware Warranty, even if only one bright pixel is found.
Advanced Exchange Service
Your monitor comes with a 3-year Advanced Exchange Service* so that if a replacement becomes necessary, it will be shipped to you the next business day during your 3-year Limited Hardware Warranty*. Upgrade to 24/7 phone support with the optional Dell ProSupport.
Reliable and responsible
Designed with the environment in mind, this monitor meets the latest regulatory and environmental standards such as TCO Certified Displays, China Energy Label, CEL, WEEE, ErP (EuP) Standards, Korea E-Standby.
AWARDS & REVIEWS
REVIEW HIGHLIGHTS
List of Pros Highlights
PROS
satisfaction 185 reviews
Satisfaction 185 reviews
Review snippet. Click here for full review

"So lets break it down to what matters Refresh rate- Native 100hz @ 1440 (Awesome) OC to 120hz - My first panel was good for about 6 months then I had to RMA."

(Read Full Review)

for gaming 162 reviews
For Gaming 162 reviews
Review snippet. Click here for full review

"GAMING: (5 stars) - very good response time - 100-120Hz refresh rate, no lag - ultra wide resolution - overall great gaming performance OS work (2 stars) - do not expect IPS quality for Windows/iOS, the main issue are whites that go to yellowish haze in certain areas (whites actually look better from angles!"

(Read Full Review)

display 99 reviews
Display 99 reviews
Review snippet. Click here for full review

"Engineering the screen to have that corner leak is smart because it is where the windows button is located and not normally looked at, buuut after a while it does become obvious, especially when you game or watch in a low lit room."

(Read Full Review)
List of Cons Highlights
CONS
defect 9 reviews
Defect 9 reviews
Review snippet. Click here for full review

"They claim it is impact damage, caused by a fall, but the only impact it endured was my thumb."

(Read Full Review)

flickering 8 reviews
Flickering 8 reviews
Review snippet. Click here for full review

"New replacement monitor is better but not perfect if has flickering issue with gsync on at any hz setting 60 100 or120."

(Read Full Review)

disappointing 7 reviews
Disappointing 7 reviews
Review snippet. Click here for full review

"Disappointing that such a great monitor is ruined by the first experience when you plug it in because of little to no calibration from the factory and no OSD gamma control."

(Read Full Review)