Craft Advanced Wireless Keyboard with Creative Input Dial EN
COMPLETE CREATIVE CONTROL
Craft is a wireless keyboard with a premium typing experience and a versatile input dial that adapts to what you're making — keeping you focused and in your creative flow.
CONTROL YOU NEED, THE MOMENT YOU NEED IT
The creative input dial adapts to the app you're using — giving you instant access to specific functions for the task at hand.
The touch-sensitive control lets you feel your way through your creation — for a more efficient and immersive workflow.
TOUCH, TAP, AND TURN IN YOUR FAVORITE APPS
In Windows® or macOS®, adjust brightness in Adobe Photoshop® CC, change stroke weight in Adobe Illustrator® CC, edit images in Adobe Lightroom® Classic CC,and more with a turn of the dial. Windows users can also enlarge text in Microsoft PowerPoint®, instantly create charts in Microsoft Excel®, and more. Install profiles from Logitech Options software for the apps you use most at Logitech.com/Options1
Requires Logitech Options on macOS 10.11 and above and Windows 7 and above.
<iframe class="ql-video" frameborder="0" allowfullscreen="true" src="https://www.youtube.com/embed/?color=white&autoplay=0&enablejsapi=1&modestbranding=1&playlist=9IRXWdovdpc,zGAtPoguA34,2ke49pvTEWI,nmcyCn3gebc,pEYbzyv7Cck,49wOUTQa23o,a0E9mJnobg8,qY-FmTQQhEk&playsinline=1&rel=0&showinfo=0&origin=https://www.logitech.com&widgetid=1" height="100%" width="100%"></iframe>
SMART ILLUMINATION
Craft breathes to life with a backlighting flourish when it turns on — and the keys light up the moment your hands approach.
The backlit keys automatically adjust brightness to suit changing lighting conditions.
TYPE WITH EFFORTLESS PRECISION
Confidently type on a keyboard crafted for efficiency, stability, and precision.
Increased key stability reduces noise and optimizes responsiveness so you feel, but don't hear, every keystroke. The spherical key dishing is crafted for accuracy, and blind navigation details make it easy to orient your fingers so you never miss a key — or a beat.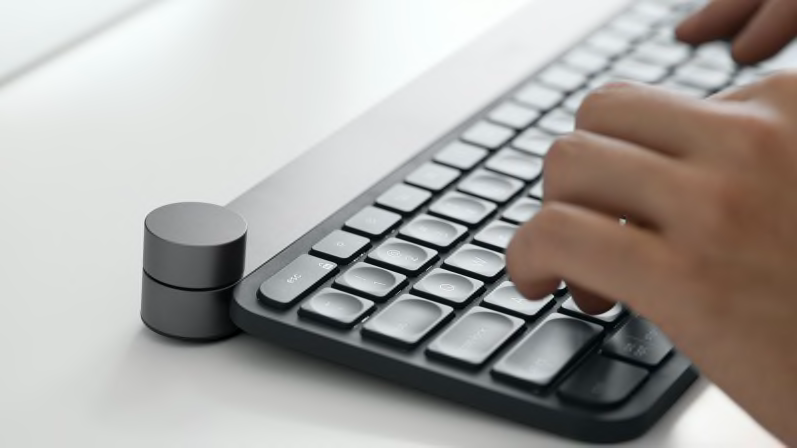 LOGITECH CRAFT
Advanced Keyboard with Creative Input Dial
DIMENSIONS
Height: 5.87 in (149 mm)
Width: 16.93 in (430 mm)
Depth: 1.26 in (32 mm)
Weight: 33.86 oz (960 g)
SYSTEM REQUIREMENTS
Internet connection for software download
USB connection
Available USB port required
Bluetooth connection
Bluetooth low energy technology ready device with keyboard support required (Bluetooth HID)
Logitech Options on Windows 7 or later, macOS 10.11 or later
TECHNICAL SPECIFICATIONS
Connection support
Logitech Unifying wireless technology
Required: Bluetooth low energy technology
Software support
Logitech Options on Mac OS 10.11 and above and Windows 7 and above
Enhanced input dial experience in
Microsoft Word®, Microsoft PowerPoint, Microsoft Excel 2010, 2013 and 2016 - Windows only
Adobe Photoshop CC, Adobe Photoshop Lightroom Classic CC, Adobe Illustrator CC, Adobe Premiere® Pro CC 2017 and above – Windows and Mac
Adobe Reader® DC, VLC Media Player - Windows
Preview, Quicktime, Safari® - Mac
Spotify™ - Windows and Mac
SDK
CRAFT Software Developer Kit available
Additional features
10 m wireless 2Wireless range may vary depending on operating environment and computer setup.
Wireless encryption 3Wireless encryption is between keyboard and the connected computer or mobile device.
On/Off power switch
3 connection indicator lights
Caps lock indicator light
Battery indicator light
Rechargeable with USB type C
Compatible with Logitech Flow™ enabled mice
PACKAGE CONTENTS
Wireless keyboard
Unifying USB receiver
Charging cable
User documentation
WARRANTY INFORMATION
1-Year Limited Hardware Warranty
PART NUMBER
920-008484
CALIFORNIA WARNINGS
WARNING: Proposition 65 Warning
Read more on Prop 65
GETTING STARTED
Find all the documentation we have available to get this product up and running quickly.
PRODUCT REGISTRATION
Register your product for faster access to support and to activate any applicable warranties.
FAQS
If you have any questions, we probably have the answers that you're looking for.
DOWNLOADS
Find any available downloads that help extend the capabilities of this product.
WARRANTY
If you are not completely satisfied with your purchase we want to try to make it right.
CONTACT US
Still can't find the answers you're looking for? Drop us a line and an agent will take it from there.