Z533 Multimedia Speaker system with subwoofer
BIG SOUND THAT FILLS THE ROOM
Big sound at your fingertips with a 2.1 speaker system, integrated control pod, and multiple hookups for up to three devices. Serious wattage at 120 Watts Peak/ 60 Watts RMS power delivers powerful sound and full bass to fill your space.
BOLD YET BALANCED SOUND
120 Watts Peak/60 Watts RMS power delivers big sound that doesn't compromise on quality. Balanced acoustics and a full range of sound are designed to move throughout the entire room.
BOOMING BASS
The front-facing, fabric-lined subwoofer really delivers when it comes to bass you can hear and feel, adding a thick backbone to music, movies, and games.
INTEGRATED SOUND CONTROL
One integrated control pod has all the controls you need. Just rotate to adjust volume and bass. Plus, the headphone jack and additional auxiliary jack are right at arm's reach.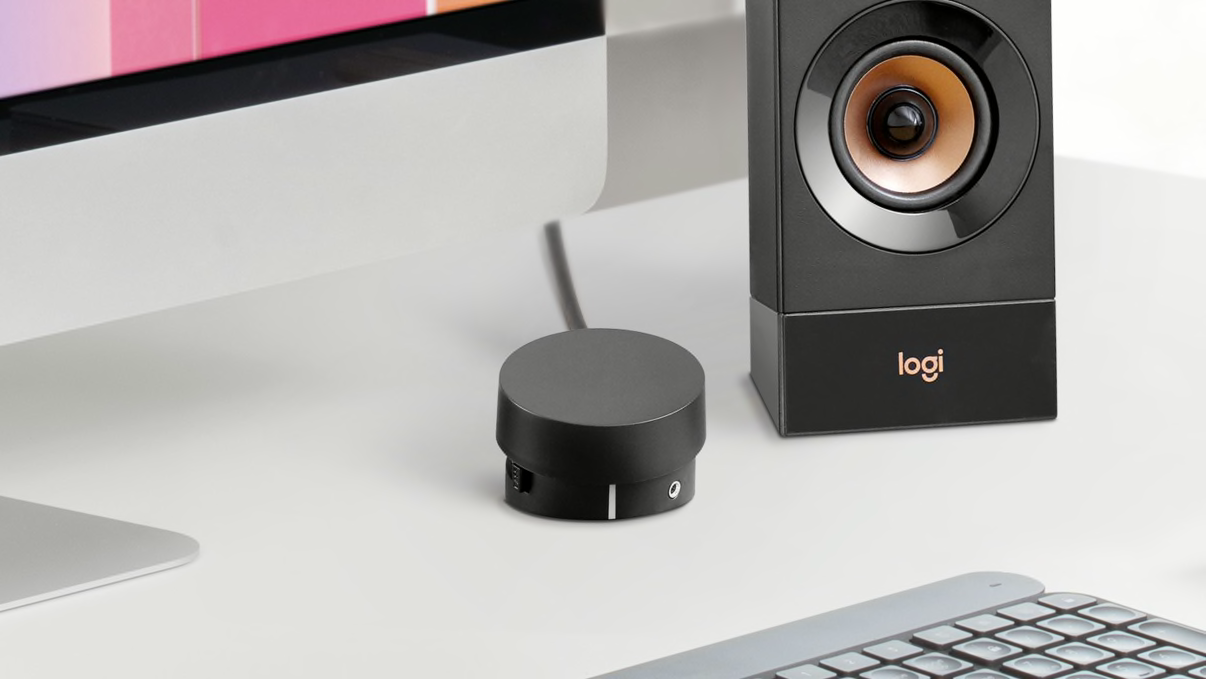 CONNECT THREE WAYS
Three hookups for three times the fun. One 0.14 in (3.5 mm) jack and two RCA hookups let you connect your favorite devices, like your TV, computer, and smartphone. If you want, you can keep 'em all connected and switch between them to your heart's content.
IT'S GOT STYLE
Sexy and sophisticated, black and gold is a classic for a reason. The sleek, black design features a golden ring right at the speaker driver—it's got "premium" written all over it. Not to mention simple cable management that cuts down on clutter.
Z533 SPEAKER SYSTEM WITH SUBWOOFER
Room-filling sound with powerful bass
DIMENSIONS
Satellite
Height: 6.69 in (170 mm)
Width: 3.94 in (100 mm)
Depth: 3.27 in (85 mm)
Weight: 18.52 oz (525 g)
Subwoofer
Height: 10.43 in (265 mm)
Width: 10.04 in (255 mm)
Depth: 7.68 in (195 mm)
Weight: 8.82 lbs (4.0 kg)
Control pod
Height: 2.17 in (55 mm)
Width: 2.83 in (72 mm)
Depth: 2.83 in (72 mm)
Weight: 7.05 oz (200 g)
SYSTEM REQUIREMENTS
Works with any device with either headphone jack 0.14 in (3.5mm) or RCA inputs
Computer
Smartphones
Tablets
Televisions
MP3 players
DVD / Blue-ray players
Game consoles
TECHNICAL SPECIFICATIONS
Total watts (Peak): 120W
Total watts (RMS): 60W
Subwoofer: 30W
Satellites: 2 x 15W
0.14 in (3.5 mm) input: 2
RCA input: 1
Headphone jack: 1
PACKAGE CONTENTS
Two satellite speakers
Subwoofer
0.14 in (3.5 mm) audio cable
User documentation
WARRANTY INFORMATION
1-Year Limited Hardware Warranty
PART NUMBER
980-001053
GETTING STARTED
Find all the documentation we have available to get this product up and running quickly.
GET STARTED
PRODUCT REGISTRATION
Register your product for faster access to support and to activate any applicable warranties.
REGISTER A PRODUCT
FAQS
If you have any questions, we probably have the answers that you're looking for.
VIEW FAQS
DOWNLOADS
Find any available downloads that help extend the capabilities of this product.
VIEW ALL DOWNLOADS
WARRANTY
If you are not completely satisfied with your purchase we want to try to make it right.
FILE A WARRANTY CLAIM
CONTACT US
Still can't find the answers you're looking for? Drop us a line and an agent will take it from there.
REQUEST SUPPORT