24-inch iMac with Retina 4.5K display: Apple M1 chip with 8‑core CPU and 7‑core GPU, 256GB - Pink
% 3.22 discount Apple Mac 2021, Apple M1, 24 - inch, 8 GB 0.256 GB, Pink
Key Features
24" immersive Retina4.5K display with P3 wide color and 500 nits brightness
The AppleM1 chip delivers powerful performance with an eight-core CPU and seven or eight-core GPUs
Ultra-thin 11.5mm design and vibrant colors
FaceTime HD 1080p camera with M1 chip image signal processor to enjoy amazing video quality
Studio-quality three-microphone array for crystal-clear calls and voice recordings
Six-speaker sound system for a powerful and high-quality sound experience
Ultra-fast SSD storage of up to 512 GB
Two Thunderbolt/USB4 ports and up to two USB3 ports
Ultra-fast Wi-Fi6 and Bluetooth 5.0 wireless technology
Magic Mouse in the same device color as Magic Keyboard or Magic Keyboard with Touch ID
macOS is bold in design, easy to use, and works seamlessly with iPhone
Comes in blue, green, pink, silver, yellow, orange and lilac colors
<iframe class="ql-video" frameborder="0" allowfullscreen="true" src="https://media.extra.com/v/aurora/iMac_new_EN/mp4_720p?protocol=https"></iframe>
Specifications
Features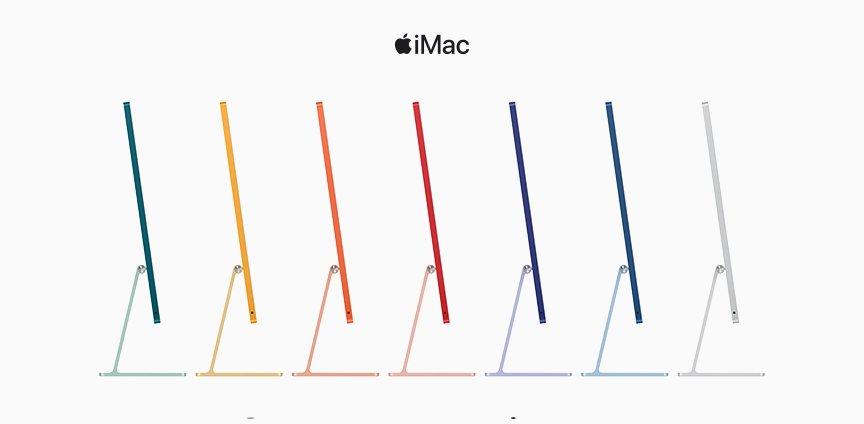 Hi iMac.
It comes with the best of Apple. It works with the power of the M1 chip. It imposes its personality wherever it goes. It fits perfectly with the details of your life.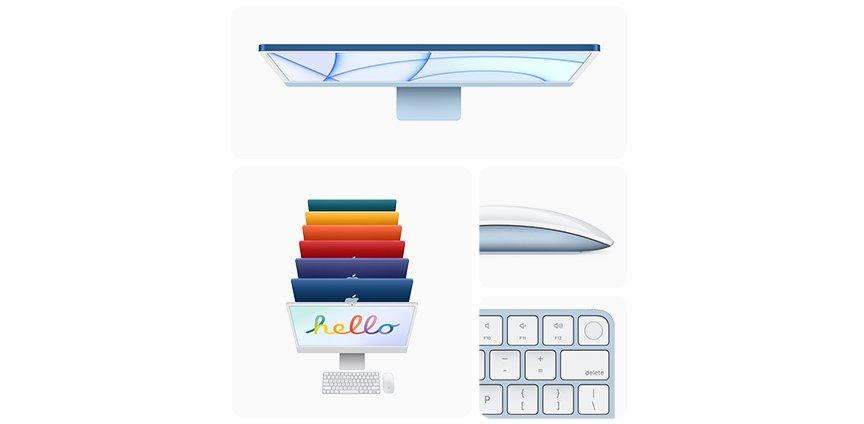 The finest, on a higher level.
iMac comes in seven vibrant colors ◊ and a stunning design to make a difference anywhere it's placed. It is also 11.5 mm thick and weighs less than 5 kg.
Touch colors. Magic Keyboard, Magic Mouse, and Magic Trackpad◊ in the same color as the iMac. brightly.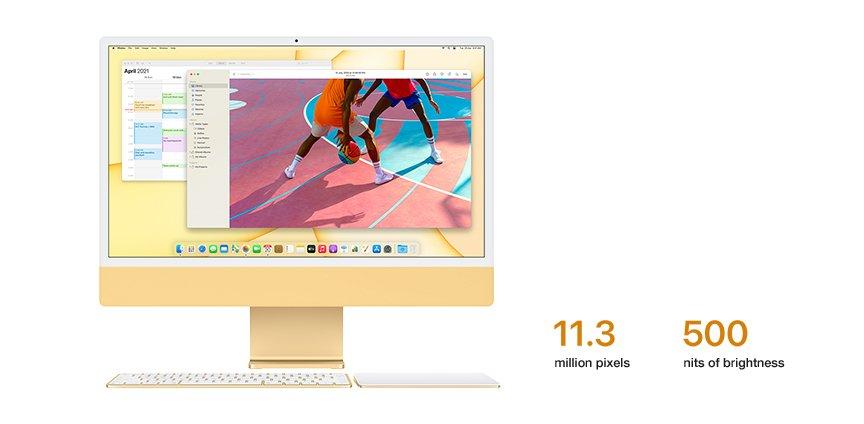 Life I explain on a wider screen.
24" Retina 4.5K display, ◊ over a billion colors, and True Tone technology for a more natural and lifelike viewing experience, so everything you do, from streaming online movies to editing photos, is in the highest resolution and with vivid, vibrant colors.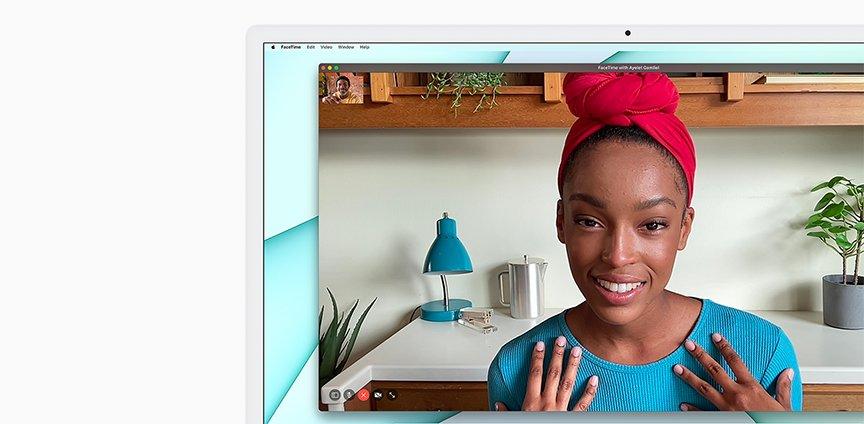 Leave an impact.
FaceTime HD 1080p camera with 2x higher definition ◊ And with the power of the M1 chip, you look your best in all your video calls.
Three studio-quality microphones so friends, family and colleagues hear you clearly, without the ambient noise.
Six speakers The sound system delivers amazing room-filling sound.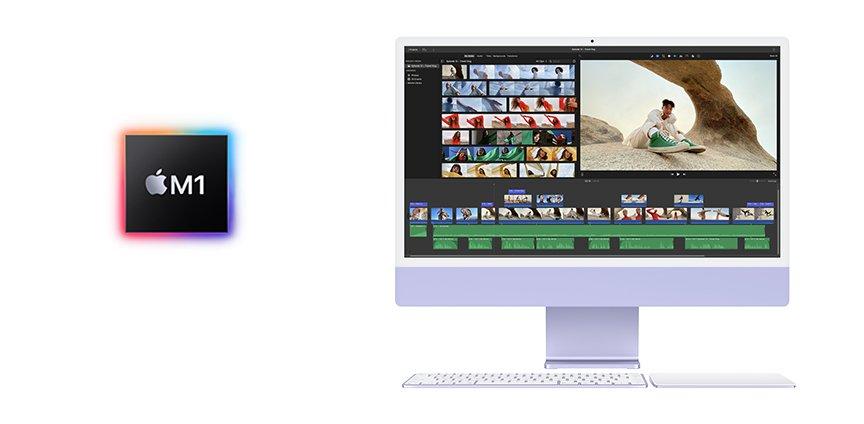 macOS with M1 power
The M1 chip and macOS combine to elevate iMac to a whole new level of performance: it wakes up from hibernation instantly, apps launch at a glance, and the entire system runs smoothly and quickly.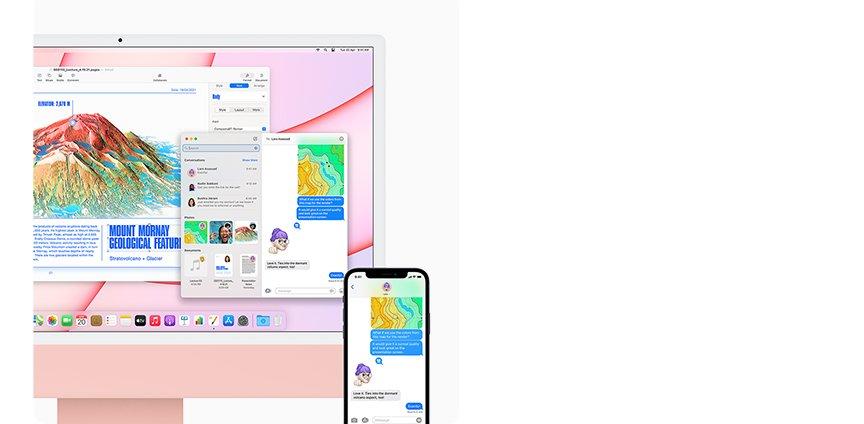 iMac and iPhone. Perfect partners.
When you use your iMac and iPhone together, you'll have an amazing experience. You can receive your phone calls and text messages directly on your iMac, easily copy and paste text and images between your iMac and iPhone, and seamlessly share files between both devices using AirDrop.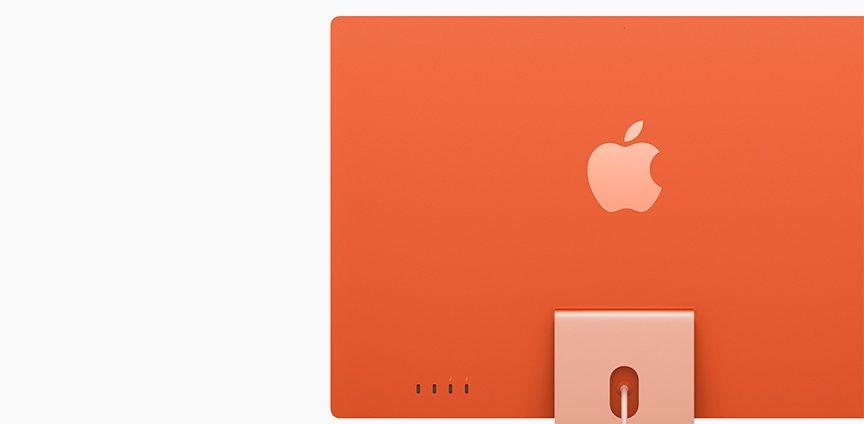 Access a world of possibilities.
Connect all your favorite devices with up to four USB-C ports, including two Thunderbolt ports, an external power adapter with a color-matched knit cable, and Wi-Fi 6 and Bluetooth to keep you connected.