27-inch iMac with Retina 5K display: 3.8GHz 8-core 10th-generation Intel Core i7 processor, 512GB
Apple iMac Core i7 8GB RAM 512GB SSD 27" 5K All-in-One Desktop - (MXWV2AB/A)
Information on Apple iMac Core i7 8GB RAM 512GB SSD 27" 5K All-in-One Desktop - (MXWV2AB/A):
Brand APPLE
Article Number 630461
Model Number MXWV2AB/A
General
Colour White
Desktop Type All-in-one Desktop
Desktop Touch Screen No
Desktop Processor Intel Core i7
Desktop Memory (RAM) 8 GB
Desktop HDD Capacity 512 GB SSD
Dedicated Graphics Memory Capacity -
Desktop Display Size 27-inch
Monitor Resolution 29289
Screen Type -
3D Support No
Desktop OS Mac OS
Optical Drive -
Speakers Internal
Ethernet Yes
Wireless LAN Yes
Bluetooth Yes
2.0 USB Port x2
Why to buy Apple iMac Core i7 8GB RAM 512GB SSD 27" 5K All-in-One Desktop - (MXWV2AB/A) :

A Desktop Experience That Draws You In And Keeps You There
This is the idea behind today's iMac. And now that idea is more powerful than ever. The new iMac is packed with all-new processors, the latest graphics technologies, innovative storage, and higher-bandwidth connectivity. And it all comes to life on the brightest and most colorful Retina display iMac has ever seen. So you get an even more immersive experience — and a scintillating new way to take it all in.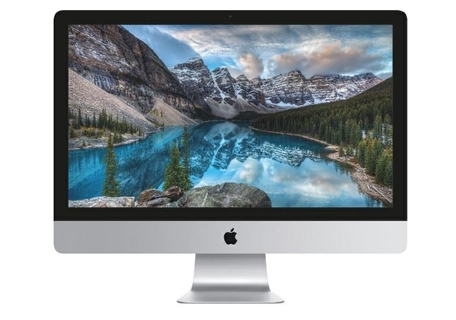 Performance Boosts Across The Board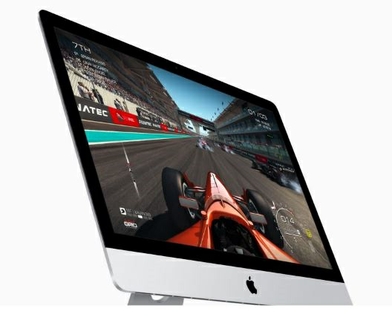 Faster and more powerful than ever, iMac is now equipped with seventh-generation Intel Core i5 and i7 processors and the latest high-performance graphics. Storage kicks into high gear as well, with the speedy and spacious Fusion Drive now available in standard configurations of both the 27-inch and 21.5-inch Retina models. So you can do everything you love to do on iMac. All at maximum velocity.
Brighter Than Ever. More Colors Than Ever
The Retina display shines even more vividly on the new iMac. With one billion colors and 500 nits of brightness, graphics leap off the screen in a whole new light. And the pixel density is so high that you won't detect a single one. Text is so clear and sharp, your email and documents will look smarter than ever. It's simply the best Mac Retina display yet.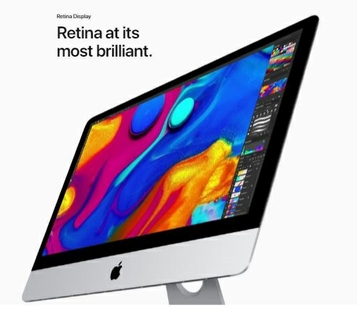 Accelerate Your Every Move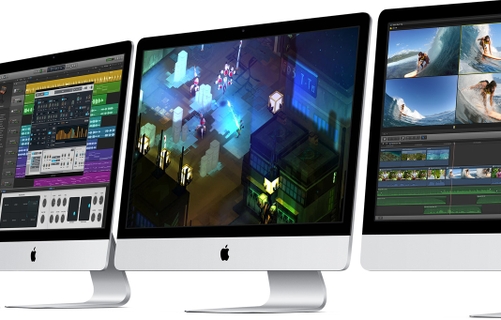 An all-new seventh-generation Intel Core processor in every iMac. It's more speed than iMac has ever reached before. And Turbo Boost gives you even more power when you're using processor-intensive applications like Logic Pro or Final Cut Pro. It all takes place behind the scenes, but you'll see the difference in so many ways.
The Color You Shoot Is The Color You See
The world is full of spectacular colors, and iMac brings more of them to your screen. The Retina display uses P3 color that shifts away from standard white LEDs to advanced red-green phosphor LEDs. So all three colors — red, green, and blue — are more equally represented and show off real-world color with more balance and precision.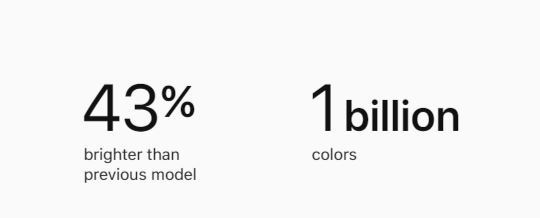 Double The Speed And Bandwidth Of The Previous Generation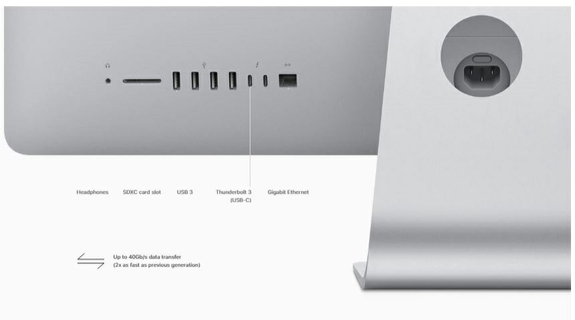 Two Thunderbolt 3 (USB-C) ports come standard on all iMac models, each delivering up to 40Gb/s data transfer for external drives and cameras and twice the bandwidth for video and display connectivity. Four USB 3 ports give you plenty of options for connecting peripherals, including your printer, iPhone, thumb drive, and more. And with ultrafast three-stream Wi‑Fi and Bluetooth 4.2 wireless technology, you're instantly connected to all your favorite content.
Iconic design. Advanced engineering. Talk about modern art
iMac has always been the ultimate in form and function: An all-in-one computer that puts everything — display, processor, graphics, storage, memory, and more — inside one simple, stylish enclosure. The new iMac includes the most advanced, most brilliant desktop display we've ever built, and it's filled with all-new technologies that take power and performance to a whole new level. Yet it's still just 5 mm thin at its edge.

Rechargeable. Remarkable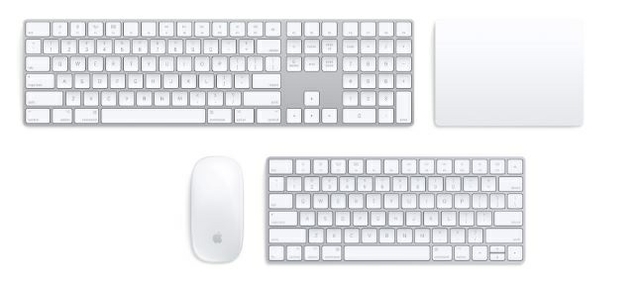 The new Magic Keyboard with Numeric Keypad makes typing, editing spreadsheets, or navigating pro apps a breeze. Paired with Magic Mouse 2 or Magic Trackpad 2, it works like magic with iMac. Whether you're working or gaming, the new Magic Keyboard with Numeric Keypad makes everything as easy as 1-2-3. Designed with a sleek, low profile and engineered for stability so you can type with comfort and precision.