16-inch MacBook Pro with Touch Bar: 2.3GHz 8-core 9th-generation Intel Core i9 processor, 1TB - Silver
MacBook Pro 16 Core i9 16GB RAM -1TB SSD 16" - 2019 9th Generation (MVVM2AB/A) - Silver
About the product:
Processor - Intel Core I9
RAM - 16 GB
Storage - 1 TB SSD
AMD Radeon Pro 5300M
Screen - 16 "
Mac OS
Touch Bar keyboard with integrated Touch ID sensor
Information on MacBook Pro 16 Core i9 16GB RAM 1TB SSD 16" 2019 9th Generation (MVVM2AB/A) - Silver:
Model MVVM2AB/A
Product Code 624632
general
trade mark Camel
laptop type MacBook
touch screen unavailable
the color silver
Healer Intel Core i9
Memory Size (RAM) 16 GB RAM
Storage 1 TB SSD
GPU AMD Radeon Pro 5300M
Graphics card capacity 4 GB
Screen Size 16 inch
OS Mac OS
camera (web cam) available
Built-in microphone available
Ethernet Yes
Wireless Lan available
the weight 2 Kg
Dimensions (width x depth x height) 1.62 cm x 35.79 cm x 24.59 cm
Why to buy MacBook Pro 16 Core i9 16GB RAM 1TB SSD 16" 2019 9th Generation (MVVM2AB/A) - Silver :
A power that shines smart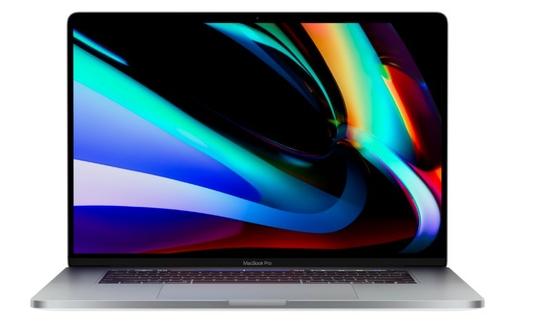 The MacBook Pro is the most powerful notebook we've ever created, built for those who push their ideas beyond possible and change reality. With an immersive 16-inch Retina display, ultra-fast processors, next-generation graphics, the largest battery capacity in a MacBook Pro yet, a new Magic Keyboard, and massive storage space, this device proves to be the ultimate professional notebook for the ultimate professional.
I set boundaries only to challenge them and cross them
The new MacBook Pro features a stunning 16-inch Retina display, the largest ever in a Mac notebook. This screen produces 500 nits of brightness for amazing brightness and vivid whites, while enjoying deep blacks thanks to the precise alignment of the liquid crystal particles in the images. P3's wide color gamut also gives you charming photos and videos that are closer to reality. Thus, you will see your work in the best possible light, captivating your eyes no matter how you look.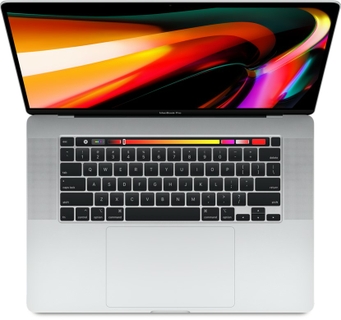 narrow band backlight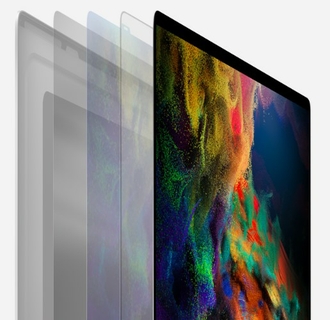 Narrowband LED backlighting allows MacBook Pro to display the P3's wide color gamut for life-like photos and videos with clarity.
More advanced thermal structure for faster processing.
The thermal architecture of MacBook Pro has been completely redesigned, with the fan impellers increased in size and blade optimizations for optimal airflow, as well as more heat-dissipating cooling fins for more efficient cooling. The result is cooling capacity that allows the MacBook Pro to generate up to 12 watts more than maximum continuous power.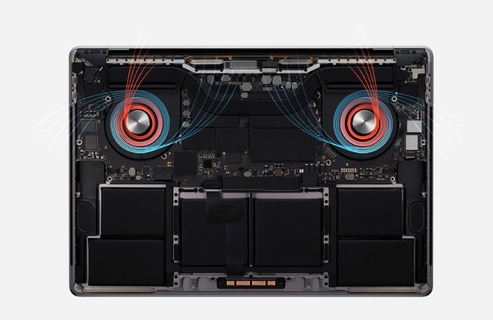 Up to 64GB of DDR4 memory means more efficient multitasking.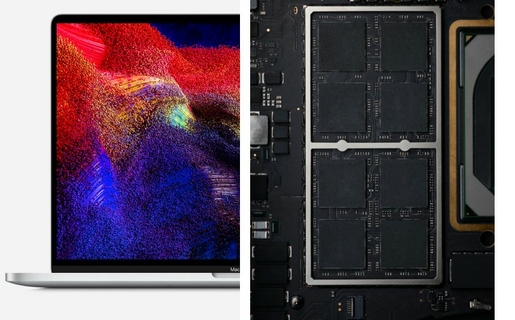 The 16-inch MacBook Pro uses 2666MHz DDR4 memory — up to 64GB — to ensure smooth performance whether you're uploading hundreds of audio samples, editing billion-pixel images, or running multiple virtual machines.
Everything is where it should be, and everything makes sense.
The 16-inch MacBook Pro takes workflow efficiency to a new level. The new Magic Magic Keyboard features a 1mm scissor mechanism for a responsive, comfortable and quiet typing experience. The Touch Bar puts powerful shortcuts front and center, and Touch ID provides fast authentication. A dedicated Escape key allows for quick switching between modes and views. And the inverted T arrow keys enable navigation whether you're navigating lines of code or navigating spreadsheets or games.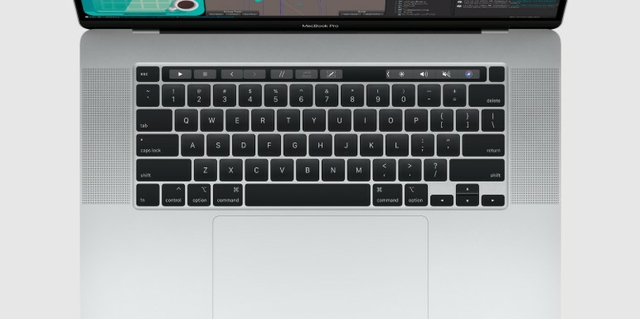 Audio: Higher bass, better microphone.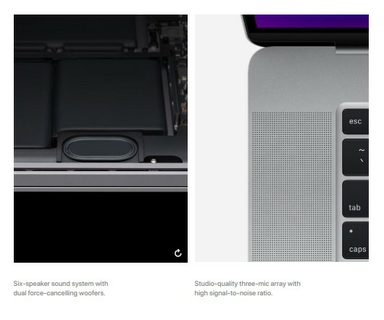 MacBook Pro delivers massive audio capabilities. The six-speaker audio system dazzles you with stereo sound with a wide, immersive range, unlike anything you've heard on a notebook before. Dual anti-vibration woofer speakers dramatically reduce system vibration, delivering clearer, true-to-life sound and a half-octave lower range for bass. The studio-quality three-mic array rivals professional-grade microphones, so you can produce crystal-clear podcasts or music recordings wherever you are.
A stronger battery that lasts longer
The 16-inch MacBook Pro has the largest battery capacity we've ever produced. The 100Whr lithium-polymer battery not only powers the larger screen and provides more maximum continuous power, but also gives you up to longer battery life. 11 hours of wireless web browsing and 21 video playback, so you can do more wherever you are before you need to charge it again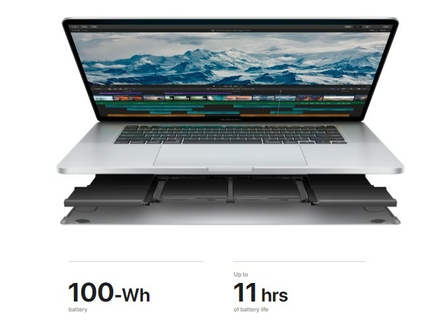 The Apple T2 chip is a new generation of security.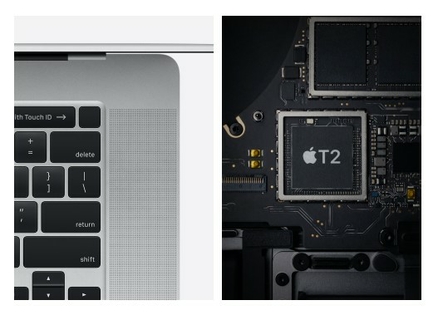 Every MacBook Pro comes with the Apple T2 Security Chip, a second-generation silicon chip designed specifically for Mac computers to make everything you do more secure. It includes the Secure Enclave coprocessor that powers Touch ID and provides the basic platform for secure boot capabilities and encrypted storage. It also integrates several separate consoles, including the System Management Console, the Audio Console, and the SSD Disk Console.
Thunderbolt 3 is strong-willed. Multi-tasking.
Thunderbolt 3 combines the superior bandwidth with the flexibility of USB-C to give you a more powerful all-round port. It includes data transfer, charging and video output in a single port with transfer speeds of up to 40Gb/s, twice the bandwidth of Thunderbolt 2. MacBook Pro comes with four ports so you can do everything you want from either side. In addition, existing devices can be easily connected with cables or adapters, and Thunderbolt 3 is reversible, so you don't have to look for the right direction to plug it in.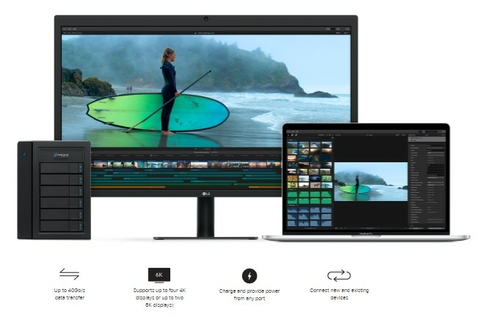 <iframe class="ql-video ql-align-center" frameborder="0" allowfullscreen="true" src="https://www.youtube.com/embed/ysRigNyavF4" height="300"></iframe>